Recent Programs
Scholar-in-Residence
Larry Polivka served as Scholar-in-Residence of the Claude Pepper Foundation focusing his efforts on issues relating to long-term care and retirement security. Polivka also served as director of the Claude Pepper Center where his primary research interests were long-term care, affordable health care and economic security for America's elderly population.
Close Up Foundation – Claude Pepper Scholarship Program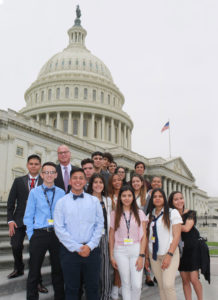 In 2015 the Claude Pepper Scholars program was established by the Claude Pepper Foundation to provide scholarships to help students from underserved communities and economically disadvantaged backgrounds in Miami-Dade public schools to participate in the Close Up Foundation Washington program. Over the past few years the Pepper Foundation has provided support for students to participate in the program and has continued to increase the number of student participants to become Claude Pepper Scholars to provide an opportunity for a greater number of students in the Miami-Dade community to benefit from the Close Up Foundation's Washington program.
The Close Up Washington program offers intense, inspiring, and skill-building experiences that give students the opportunity to discuss and debate current issues with peers; interact with key policy, media, and advocacy experts; meet with their Members of Congress and staffs; and participate in legislative simulations. Using the nation's capital as a living classroom, students learn and practice the habits of active, effective citizenship, with an emphasis on how to articulate their own viewpoints and to listen with respect and tolerance to those of others.
The Alliance for Aging Research
The Claude Pepper Foundation has provided support to the Alliance for Aging Research since 2005 through its support of the Claude Pepper Award for Advancing Healthy Aging presented at the organization's Annual Bipartisan Congressional Awards Dinner and Roundtable events to recognize a Democratic member of Congress who is leading the way for policies encouraging medical research, innovation, and care to benefit Americans as they grow older. The Alliance for Aging Research is a nonprofit organization dedicated to accelerating the pace of scientific discoveries and their application to vastly improve the universal human experience of aging and health.
The Alliance was founded in 1986 in Washington, D.C., and has since become a valued advocacy organization and a respected influential voice with policymakers. The Alliance believes that advances in research help people live longer, happier, more productive lives and reduce health care costs over the long term and that access to the latest scientific information empowers people to take control of their health. The Alliance strives to advance science and enhance lives through a variety of activities and initiatives—from policy issues to provider and consumer health programs—that generate knowledge and action on age-related issues. Since 1986, federal support for aging research has more than tripled, private research and development in aging-related health has reached an all-time high, and new discoveries are making a lasting difference to the lives of millions of Americans.
Following is a list of distinguished recipients of the Claude Pepper Award for Advancing Healthy Aging and the year in which it was received:
2023 – U.S. Representative Anna G. Eshoo (D-CA)
2022 – U.S. Representative Nanette Diaz Barragán (D-CA)
2021 – U.S. Senator Chris Van Hollen (D-MD)
2020 – U.S. Representative Frank Pallone, Jr. (D-NJ)
2019 – U.S. Representative James E. Clyburn (D-SC)
2018 – U.S. Representative Steny Hoyer (D-MD)
2017 – U.S. Senator Tom Carper (D-DE)
2016 – U.S. Representative Maxine Waters (D-CA-43)
2015 – U.S. Representative Diana DeGette (D-CO-1)
2014 – U.S. Senator Bill Nelson (D-FL)
2013 – U.S. Senator Kay Hagan (D-NC)
2012 – U.S. Representative Allyson Y. Schwartz (D-PA)
2011 – U.S. Senator Richard J. Durbin (D-IL)
2010 – U.S. Senator Robert P. Casey, Jr. (D-PA)
2009 – U.S. Senator Herb Kohl (D-WI)
2008 – U.S. Representative Edward J. Markey (D-MA)
2007 – U.S. Senator Kent Conrad (D-ND)
2006 – U.S. Senator Evan Bayh (D-IN)
2005 – U.S. Senator Tom Harkin (D-IA)
Florida Council On Aging Advocacy Initiative
The Claude Pepper Foundation has provided support to the Florida Council on Aging (FCOA) Advocacy Initiative to the Florida Legislature. The primary goal of the initiative is to educate the public and Florida Legislature for the continuation of in-home and community-based services for frail elders and to create support for the expansion of funding to serve elders. The Florida Council on Aging is committed to serving Florida's diverse aging interests through education, information sharing and advocacy. The objectives of the Florida Council on Aging were established to create a common meeting ground for all those interested in aging; to create better communication among professional groups; to focus public interest in the welfare and well-being of the aged; to promote and encourage the scientific study of aging; to take action, including legislative recommendations that would achieve the aims of the Council; to cooperate with existing local and national groups; and to stimulate the formation of new groups throughout the state.
United HomeCare Claude Pepper Awards
The Claude Pepper Foundation provides support to United HomeCare through sponsorship of the organization's annual Claude Pepper Awards. The Claude Pepper Awards are presented to individuals representing organizations or services that have made a significant contribution toward meeting the needs of the elderly and/or disabled in the Miami-Dade county community. United HomeCare is a non-profit home health and community care organization that serves South Florida whose mission is to make a difference in the lives of individuals by offering community-based health care solutions that promote independence and wellness.
Florida Veterans
The Claude Pepper Foundation has provided support to the Florida Veterans Foundation's initiatives to provide support and assistance to help meet the needs of Florida's Veterans. The mission of the foundation is to serve, support, and advocate for Florida veterans to improve their quality of life. The Florida Veterans Foundation serves as the statewide lead organization for Florida veterans and their families by providing direct services and partnering with state and local governments, veteran service organizations, and educational institutions to improve their physical, financial, mental, emotional, and social well-being. The foundation supports the Florida Department of Veterans Affairs' mission of advocacy; and, advocates for Florida veterans through local and statewide outreach to educate the public and governmental entities, increasing awareness on veteran-related issues.
Leadership Florida – Before You Vote
The Claude Pepper Foundation has sponsored Leadership Florida's Before You Vote debates. The debate project was created by Leadership Florida in partnership with the Florida Press Association. Before You Vote debates are broadcast live with partners from around the state to ensure the program is viewed in every media market in Florida. The debates are rebroadcast nationally on C-Span, and simulcast live on Florida Public Radio member stations. Both political parties' respective nominees are invited to participate in the live statewide broadcast. From its vibrant annual classes, to active region groups, to its broad committee structure encouraging long-term involvement by all members, Leadership Florida is a dynamic organization designed to promote statewide leadership. Each Leadership Florida program is designed to enhance understanding of issues critical to Florida.